Very simple to do and for those who love cheese, very good!

Ingredients:

- 1 shortcrust dough (recipe here)
- 1 camembert
- 400g of potatoes
- 100g mascarpone
- 10cl of milk
- Salt, pepper, thyme

Recipe:

- Place the potatoes in boiling water and cook (check by planting a knife in it, they should be soft but not to much)
- Put the pastry in a tart pan. Pre-cook the pastry at 180 degrees for 10 minutes

- Meanwhile, mix the mascarpone with the milk, salt and pepper.

- Once cooked, peel the potatoes and cut into slices.

- Put potato slices on the pastry and sprinkle with the "sauce".

- Cut the Camembert into 8 (or 10, the slices will be thinner) and put on the tart.

- Sprinkle with thyme and bake for 20/25 min.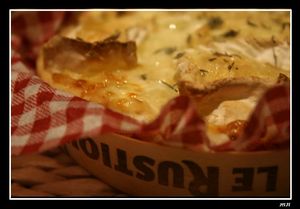 You can add ham or bacon to the recipe or adapt it with another cheese.
Bon appetit