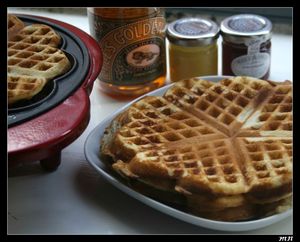 This recipe requires waffles maker. At the same time tell me, how to make waffles without one ...

Ingredients:

- 250g flour
- 85g sugar
- 115g butter, melted
- 400 ml milk
- 3 eggs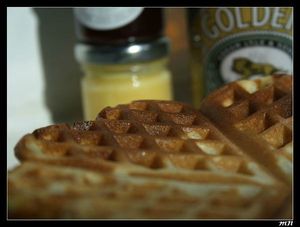 Recipe:

- Put the flour and sugar in a bowl.

- Form an hole in the middle and put the eggs. Mix well with a whisk.

- Gradually add the butter in 3 times, this will prevent lumps. Then the milk, still three times.

If you find your mix too thick, add milk, but the dough should not be liquid !

- Rest 30 min in the fridge

- Heat the waffle machine and place a ladleful of batter in the center of the device.
Add golden syrup, jam, nutella ... Or nature. Those are absolutely perfect.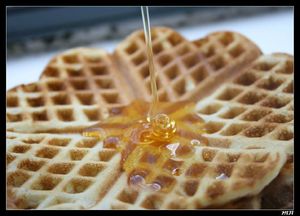 Bon appetit