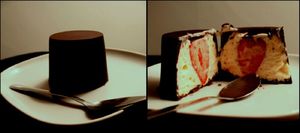 I already do this recipe recently and I wanted to improve. She is now (for me) perfect. This also allowed me to take a picture of this dome chocolate, white chocolate mousse and strawberry.

Ingredients for six domes:

- 250g of dark chocolate
- 20g butter

- 180g white chocolate
- 300ml whipping cream
- 2 eggs
- 1 sheet of gelatin

- 6 strawberries

Recipe:

Prepare the white chocolate mousse.

- Soften the gelatin in cold water.

- Melt the chocolate with a little bit of cream.
- Seperate the yolks from the white. Add the yolks to the white chocolate and mix. Add gelatin.

- Beat the remaining cream into whipped cream. Beat the two egg whites until hard.

- Stir the chocolate in the whipped cream then add the mixture to egg whites. Let cool in the fridge.

For the chocolate dome.

- Melt chocolate with butter and line the silicon pan with the help of a brush or spoon. Be carreful, the pan must be really well cover, if not, the chocolate mousse will escape from the hole.

/!\ Keep a little bit of chocolate to close the dome at the end.

The silicone pan is necessary for thi recipe. I used a muffin pan.

Confection of domes.

- When the chocolate has hardened, take out from the fridge with the chocolate mousse.

- Remove the stalks from the strawberries and place a strawberry in each chocolate dome and then covered with white chocolate mousse.

- Put in the fridge until the chocolate mousse is set, then cover with the remaining dark chocolate.

Keep refrigerated at least 3 hours before unmolding and serving.



Bon appetit