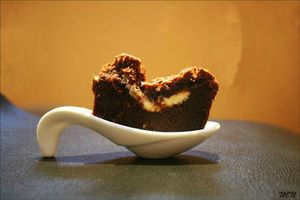 A recipe really simple and so good.

Ingredients:
- 125g butter
- 2 eggs
- 50g flour
- 100g dark chocolate
- 50g sugar
- 100g white chocolate
Recipe:
- Melt chocolate and butter together.
- Mix sugar and eggs than add the flour slowly.
- Add the chocolate with the previous mix and put in a cake tin (mine is a rectangular silicone one). Than, add the white chocolate in the middle.
- Bake your cake during 15/20 min at 180 degres. The cake must be runny so be careful to not overcook your cake.
Bon appetit