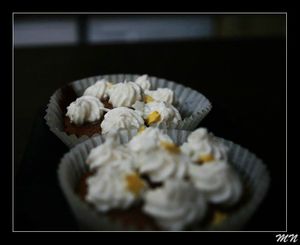 My first cupcakes. Chocolate cake with mascarpone topping.

Ingredients:
- 200g dark chocolate
- 100g butter
- 100g sugar
- 75g flour
- 3 eggs
- 1 tsp baking powder
- 150g mascarpone
- 75g icing sugar
Recipe:
For the cupcake:
- Melt butter and chocolate in a pan.
- Mix sugar and eggs in a bowl. Add slowly the flour and the baking powder.
- Add the chocolate and mix well.
- Pre heat the oven to 200 degres
- Put your mix in a cupcake tray and put in the oven for 15 minutes (just check)

For the topping:
- Mix simply the mascarpone with the icing sugar.
- Use a pipping bag to decorate your cupcakes.
You can add food coloring in your topping for a little bit more "fun"

Bon appetit